Daily Golf Rates & Offers : Winter 2015-16
Make your escape from the flat terrain of the coastal region and enjoy a refreshingly unique golf experience. Amid gently rolling hills, willowy pines and aesthetically designed lakes, our 18-hole course ranks among the finest on the coast. Elevations changes up to 75 feet and scads of bunkers place Beau Rivage among the more dramatically landscaped golf courses on the coast.

Course Ratings
Download Now
Yardage Guide
Download Now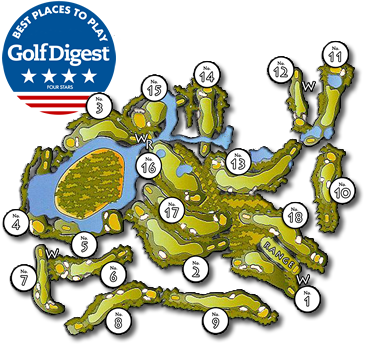 Carved out of long-needle pine forests, Beau Rivage's 18-hole championship layout incorporates wooded hills, rolling dunes, undulating valleys and plenty of water in-play from estuaries of the neighboring Cape Fear River. Attacking the flags from the rough and pine straw can be a perilous undertaking. With countless tight doglegs and narrow bermudagrass fairways, Beau Rivage will certainly test one's accuracy off the tees. The Beau's renowned putting greens, made of a genetically engineered form of bermudagrass, are known for their consistent smoothness, speed and true roll. The countless ups and downs, blind approach shots and natural hazards, combined with slick greens, Beau Rivage creates a golfing experience that offers even the avid player a challenging round.
For tee times and information, contact the Golf Shop at 910.392.9021 or book online.
Golf Course Design Profile
Architect: Joe Gessner
Developer: Eddie Lewis
Date Opened: May 6, 1988
Golfing Season: Year-Round
Greens: Ultradwarf tif-Eagle
Fairways: 419 Bermudagrass
Tee Boxes: 419 Bermudagrass
Overseed: Perrenial Ryegrass

Did you know?
* Golf Digest's Best New Honors in 1988
* Ranked 4-Stars by GD Best Places to Play
* 11 Different Holes with Water Hazards
* Highest point in Wilmington (No. 12 Tee)
* Golf course has never closed due to rain.
* Your round is NEVER CART PATH ONLY!